2013 Season Preview Series: Jason Agugliaro, Roger Oxee, and More
LongIslandJam.com's next installment of its 2013 Season Preview series includes modified drivers, Jason Agugliaro and Dave Sapienza; late model driver Roger Oxee; charger driver Jayson White, Blunderbust driver Michael Accordino; and Legend car driver Richard Davidowitz.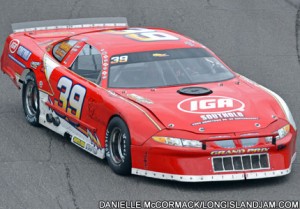 After completing his second full season in a modified at Riverhead Raceway, Jason "Hollywood" Agugliaro, driver of the No. 69, finished ninth in points with several top-10 finishes. With the 2013 season approaching, Jason and his father, Frank, are rebuilding the car and engine to improve their performance. Tom O'Keefe & Sons and South Shore Boat Transport will support Agugliaro for this year's campaign. However, Jason admits that nothing would be possible without his crew chief, Freddie Bolk, and his family which include his father, Frank; his mother, Dolores; his fiancé, Theresa; his daughter, Giavanna; and his three younger brothers, Frankie, Aaron, and Darrell.
Dave Sapienza driver of the No. 36 modified is ready to put his best foot forward this season. "I'm ready to kick some butt," said Sapienza. "It's time I get more consistent out on the track." According to Sapienza, he's returning with a new paint scheme, new engine, and new supporters, which include Frankie's Towing, SAP Enterprises, Van-Bee Lettering, and JZR. In addition to driving the No. 36, Sapienza will also occasionally drive the No. 5 modified in tribute to past modified champion, Frank Vigliarolo Jr. Lending Sapienza a hand in the pit area in 2013 is his crew chief, Jarod Zeltmann; Kyle Bevis; Fred Garcia; Kevin Pelis; and his daughter, Stephanie.
Roger Oxee, driver of the No. 39 late model, has kept himself busy during the off season, thanks in part to his hard-working crew, who work on the crew for him during the week. "I'm very thankful for my guys – I don't know what I would do without them," said Oxee. His crew, includes Todd Berger, Kim Dzenkowski, Bill Rosskamp, Alan Tuthill, Jeff Tuthill, Tony Giordano, and his two older sons Brian and Steve. Oxee adds, "A special note of thanks for my good buddy, Greg Kleila for all of his help and assistance along with Brian Paddleford of Racing Creations who has been the force behind the outstanding graphics on the car for many years. There are also three people who without their help I would never have made it this far: Mark Tooker, Dick Wheeler, and most proudly Mike Wheeler who started with us and is now the head engineer for Denny Hamlin at Joe Gibbs Racing." Because of the efforts of Oxee's crew, the car is virtually race-ready, with Oxee waiting on receiving his engine back from McBetts. Supporting Oxee in 2013 are IGA of Southold, North Fork Sanitation, Riverhead Beverage, Eastern Tire, North Fork Welding, Falkowski Fuel Services, Richie Gottfried from McBetts Racing Engines, and Dennis Freese from Oval Speed Unlimited. Oxee intends on racing the regular schedule at Riverhead Raceway as well as the scheduled Late Model races at Wall Stadium Speedway along with a few trips to Mountain Speedway.
Jayson White finished ninth in points in the charger division in his rookie season in 2012. White said he is trying to keep his expectations in check for his sophomore campaign. "As a rookie I took my time to learn my car and the people around me," said White. "I don't want to be in the wall every week. We will just take it as it comes. Everyone wants to finish first, but I'd rather take a bunch of top-five finishes than getting wrecked every week." White said his team is looking good on sponsors but they're still working on getting a couple more. "We have two right now," said White. "We have Gardner's Specialty Auto and Tom's Brake and Auto. Bobby Gardner is my mentor so I follow him. He tells me what to do and he takes care of me."
The 2012 season wasn't the best season for Michael Accordino driver of the No. 88 Blunderbust, but he said that he thinks he's learned what he needs to do to improve in 2013. "I learned the way I was driving was wrong compared to the [driving] line that everyone uses," said Accordino. In addition to improving his line, Accordino said he hopes to have much more success this year because he got a new car for this season. "I lost my tranny and my engine last year," said Accordino. "I'm hoping to win this year and be close to the top-five [in the points standings] at the end of the season since we got a new car."  Accordino said Shirley Feed and Garden Center will sponsor the car this year as well as Proper PH Pools.
Richard Davidowitz driver of the No. 25 Legend car recently bought a new chassis and motor in preparation for 2013. "Most everything on the car will be new," said Davidowitz. "It's going to have a new body and a new design." Davidowitz said that Bill Smith from WC Sign Design would do the graphic work on his car. Longtime sponsors SAM Mechanical Heating & AC, Domino Recycling, and Thriftway Auto Body continue their support for Davidowitz. In addition to running the full schedule at Riverhead Raceway, Davidowitz plans to race at the 2013 Legend Nationals at Lake Erie Speedway in North East, Pa. as well as travel to other tracks every now and then, including: Bethel Motor Speedway in White Lake, N.Y.; Mountain Speedway in St. Johns, Pa.; and Wall (N.J.) Stadium Speedway. Plus, Davidowitz plans to make time to race his No. 25 champ kart in EEKR competition at Riverhead Raceway.
Source: Danielle McCormack/Rob Blount/LongIslandJam.com