Large Crowd Witnesses David Schneider Drive To First Career NASCAR Modified Victory Saturday Night At Riverhead Raceway
With a near capacity crowd on hand Saturday night at Riverhead Raceway for the School Bus Demolition Derby, David Schneider of Northport took the lead on lap 5 of the 40-lap NASCAR Modified feature and drove off to score his first career Whelen All American Series victory. Among the interested onlookers was NASCAR CEO Brian France and his family who were vacationing in the famed Hamptons on the south fork of Long Island. France was beyond impressed with the improvements at Riverhead Raceway made by owners Eddie & Connie Partridge and Tom Gatz since taking over the historic oval at the conclusion of the 2015 season.
In a NASCAR Modified field dotted with numerous veteran drivers youth would be served early on in the 40-lap tilt as John Baker broke to the early race lead with John Fortin Jr. in tow. A quick 1st lap yellow set up a double file restart that found Fortin charging into the lead with Baker filing into second. The top spot would change hands once again on lap 4 when Baker on another side by side restart took the race lead bringing Davis Schneider, who started the race 5th to second. Once to second Schneider wasted little time in making a challenge to Baker's lead making a successful pass to the outside of Baker on a lap 4 double file restart brining Dave Brigati to second with Baker fading to third. In the meantime Tom Rogers Jr. who started the race from 7th was also on the march and he was about to make some noise of his own as the race wore on.
With Brigati following in Schneider's tire tracks Rogers found an opening under Briagti as the two tested tough veterans raced down the back stretch on lap 18. Veteran race fans who observe the weekly NASCAR Modified wars at Riverhead figured it would just be a matter of time before Rogers, a 45 time career winner would find his way past the young upstart driver Schneider. Undaunted by the presence of the hard charging Rogers on his rear spoiler Schneider was smooth for the remainder of the race hitting his marks and even out racing Tommy on a late race double file restart. Sensing they were about to witness a career first victory much like the one 15-time Riverhead NASCAR Modified winner Ryan Preece pulled off earlier in the day in the NASCAR Xfinity race in Iowa the crowd started to rally behind Schneider and he did not disappoint them in the end as he was first under the checkers.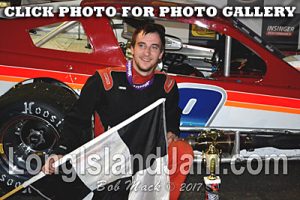 "This is just so awesome to win my first NASCAR Modified race here tonight in front of all these fans and to beat Tommy makes it even more special" Schneider noted in victory lane. Unfazed by the moment David was quick not to forget his race team headed up by former Mini Modified standout Ray Grennan, "I just can't thank my Dad and Ray and our entire team enough. We made the decision to race here weekly and man am I glad we did, this is just so cool". Schneider's team going into the race win is for the most part unsponsored and run out of the ESM Motorsports shops. Schneider was hopeful the win could lead to sponsors noticing his team, "yeah we do this out of our own pockets, it'd be great to have a sponsor or two come on board".
Tom Rogers Jr. of Riverhead was runner-up in the SGS Stone Works Chevy while Dave Brigati of Calverton crossed the line third in his JDL Environmental Chevy. Brigati came into the 40-lapper having already won the Eagle Auto mall Modified Crate & Super Pro Truck feature events however a racing hat trick was not in the cards. Championship leader John Fortin Sr. of Holtsville and Kyle Soper of Manorville completed the top five.
"J-Rod" Jarrod Hayes of Calverton doesn't make frequent starts with the Late Models of Riverhead Raceway but when he does he is capable of dominating a race which is exactly what the Town of Riverhead DPW employee did in Saturday's 50-lapper. Hayes set fast time in qualifying in his Meadowbrook Collision entry with a lap of 12.519 and in the redraw his good fortune continued as he drew the pole with defending champion Jeremy McDermott of Riverhead drawing the outside pole after qualifying third. Boasted by long time friend and current Monster Energy Cup Series spotter Freddie Kraft driving in from Pocono Raceway to spot for him, Hayes was a man on a mission racing to the race lead at the throw of the green. The night went so well for Jarrod many wondered if he even needed a spotter in Kraft as he led from green to checker for his 14th career Late Model win moving him into sole possession of 8th on the all time win list. Jeremy McDermott would finish second to Hayes in his JDP Mechanical Chevy while championship leader Kyle Soper was third in the Eastport Feeds Pontiac. With a handful of laps left in the race McDermott and Soper raced hard for the runner-up money which gave eventual winner Hayes even more breathing room.
There is no hotter driver at Riverhead Raceway these days than Dave Brigati as the defending Eagle Auto mall Modified Crate champion won his fifth race in eight starts in the class. Newcomer AJ DeSantis broke to the early race lead at the throw of the green with Jay Hansen in tow for the first lap. A quick yellow waved as the field was set to start the second lap setting up a double file restart that saw veteran Dennis Krupski race under Hansen for second when the race resumed. After chasing DeSantis for two circuits Krupski made a pass for the lead to the inside of the race leader off turn four to start the 4th lap. With the race hitting an extended green flag run many thought Krupski, a familiar face weekly at the track and a former Late Model and Blunderbust driver would be in line for his first career Modified crate win. However on lap 19 a Kurt Kreiger spin off turn four changed the complexion of the race. On that final restart Dave Brigati who just worked his way by DeSantis for second was able to outrace Krupski to the first turn taking the race lead with just five laps remaining in the event. Once out front there was no catching the Quest Machining & Fabricating Chevy of Dave Brigati who roared to his 8th career win in the Eagle Auto Mall Crate Modifieds. Dennis Krupski of Calverton was runner-up in his Gadzinski Insurance Chevy while the performance of the race went to third place finisher veteran "Jumping" Jack Orlando of Calverton who raced his way from a 12th starting spot to finish third in the Prototype Fabricating Chevy.
It was a milestone 30th career Figure Eight win for Tom Rogers Jr. as he topped their 15-lap main event in Bays Bar & Grill Chevy Coupe. All told Rogers has won 78 times at Riverhead Raceway in his ultra successful career adding in his 45 NASCAR Modified and 3 Late Model wins to compliment his now 30 Figure Eight triumphs. Eric Zeh, steering a Keith Repp owned team car to Tom Rogers Jr. broke out to the early race lead and quickly opened up a large lead over early challengers Bob Dalke and George Brown. On lap 5 a caution flag was waved for Greg Harris whose car had a small fire under the hood after losing a valve cover gasket which erased the large lead of Zeh. On the ensuing restart Rogers made his way by Brown for second on lap 6 and just one lap later he raced his way by teammate Zeh for the race lead on lap 7. Tom Ferrara made a late race charge to second when he passed Zeh on lap 11 after starting the race from 8th but by the time "The Alter Boy" arrived in second Tom Rogers Jr. was on his way to victory. Ferrara of Patchogue was runner-up in the Extreme Auto Body Cadillac while Gary Fritz Jr. of Mastic Beach was third in the Northeastern Office Equipment '57 Chevy.
"The Fancy Farmer" Dave Brigati would top the 20-lap Super Pro Truck feature event earning his second win of 2017, the 11th win of his career in the class. Sophomore talent Sean Glennon showed the way early on after starting the contest from the pole chased at first by 29-time career winner Lou Maestri with Jimmy Rennick third. On lap 3 Dave Brigati would throw his hat into the ring as he raced his way by Rennick for third and three laps later on the 7th lap worked his way by Maestri for second. After spending a coupe of laps trailing race leader Glennon, Brigati would set up what would turn out to be the winning pass when he ducked under the race leader off the fourth corner as the field received the halfway signal. Once in the lead Dave Brigati never looked back driving off to victory in his Outlaw Racing Chevy. Championship leader Owen Grennan of Glen Cove made his way to second on lap 14 which is where the Excellence East Automotive backed truck would finish. Jack Handley Jr. of Medford was third in the Hollis Court Collision Chevy and now trails Grennan by a mere point in the championship tussle.
Former 4/6-Cylinder Enduro champion Paul Wojcik of Centereach topped the 30-lap Mini Stock race for his first win of 2017. Jeremy Clint broke to the early race lead when the green flag waved and would lead the first five laps of the event before he was passed by Paul Wojcik who once in the lead never looked back and took home the win in his AWsales.com racer. Mike Mujsce Jr. of Hampton Bays raced his Premier Pest Control machine home for runner-up money while championship leader "Blackjack" Bryan Kelly of Aquebogue crossed the line third in the John's Tree Removal mount.
Dominick Ranieri of East Northport scored the 8-Cylinder Enduro win as he jumped from the outside pole to lead all 40-laps of the event in his Kings Park Contracting Chevy. Justin Ferreri of Hicksville was runner-up in his HAM Racing Chevy while Kevin Coyle of East Meadow completed the podium for the non-stop race. Ranieri is among the all time leading winner of 8-Cylinder Enduro racing that started back in May of 1986 at Riverhead Raceway.
"Kevo" Kevin Rommeney of Maspeth topped his brother "Cheesebox" Michael Rommeney of Bohemia to win a very entertaining and hard hitting School Bus Demolition Derby. The Rommeney brothers eliminated John Denniston of Westbury before settling the contest amongst themselves that should make for great holiday dinner talk for years to come.
NASCAR Modifieds:
1. Davis Schneider 2. Tom Rogers Jr. 3. Dave Brigati 4. John Fortin Sr. 5. Kyle Soper 6. John Baker 7. Howie Brode 8. John Fortin Jr. 9. Chris Young 10. Eddie Brunnhoelzl III 11. Brad Van Houten 12. Ken Heagy 13. Amber Fortin 14. Cory Midgett 15. Vinny Biondolillo DNS- Craig Lutz
Late Models:
1. Jarrod Hayes 2. Jeremy McDermott 3. Kyle Soper 4. Scott Kulesa 5. Steve Mastro Jr. 6. Eric Zeh 7. Kevin Metzger 8. Chris Turbush 9. Roger Oxee 10. Ray Minieri 11. Shawn Patrick 12. Darren McCabe
Modified Crates:
1. Dave Brigati 2. Dennis Krupski 3. Jack Orlando 4. CJ Lehmann 5. AJ DeSantis 6. Dylan Slepian 7. Tony Vecchio 8. Kurt Kreiger 9. Michael Rommeney 10. Cary Rogers 11. Peter Bertuccio 12. Michael Rutkowski 13. Jay Hansen 14. Justin Brown
Figure Eights:
1. Tom Rogers Jr. 2. Tom Ferrara 3. Gary Fritz Jr. 4. Scott Pedersen 5. Eric Zeh 6. George Brown 7. Charlie Macwhinnie 8. Bob Dalke 9. Brian Hansen 10. Greg Harris DNS-Johnny Vullo
Super Pro Trucks:
1. Dave Brigati 2. Owen Grennan 3. Jack Handley Jr. 4. Lou Maestri 5. Sean Glennon 6. Mike Albasini 7. Jimmy Rennick Jr. 8. Roger Turbush DNS- Dennis Cunningham
Mini Stocks:
1. Paul Wojcik 2. Mike Mujsce Jr. 3. Bryan Kelly 4. Ryan Warren 5. Steven Fuller 6. Kris Dane 7. Jeremy Clint 8. Russ Jansen 9. Chris Elixson 10. Brandon Esposito
8-Cylinder Enduro:
1. Dominick Ranieri 2. Justin Ferreri 3. Kevin Coyle 4. Mark Wolf 5. David Verbeeck 6. Dennis Jones 7. Pat Collins 8. Jarrod Halsey 9. Stacey Halsey 10. Brian Halsey 11. Mike Asdahl 12. Mitch Bombard 13. Joe Warren Jr. 14. Drew Scalfani 15. Jimmy Muench 16. Kevin Augustine 17. Amber Weiss 18. William Ebert 19. Sean Fitzpatrick 20. CJ Zurkowski 21. Tom Talbot 22. Dennis Kurras 23. Alex Trimarcho
School Bus Demolition Derby (top three):
1. Kevin Rommeney 2. Michael Rommeney 3. John Denniston
by Bob Finan