10 to Go with Jerry Solomito
Jerry Solomito is the oldest of the three Solomito brothers. He races the No. 59 Modified at Riverhead Raceway on a part-time basis. When he's not racing he's a crew member for his brothers Shawn and Timmy.
When did you start racing?
Jerry Solomito: I started when I was eight. My father used to race Modifieds when we were little. I played football and he was like "Let's get a go-kart and start racing." So we started Friday nights at Medford. We ran regionals and nationals all over the country from there.
So you played football? How did you go from that to racing?
Solomito: Yeah. I was starting quarterback for Islip and then the coach kind of gave me an ultimatum and I chose racing (laughs).
Do you ever regret that choice?
Solomito: Looking back on how much money I spent… A little bit. But you can't beat family. Hanging out with the family and doing everything together. You definitely can't beat it.
Right. I was going to get to that later, but I'll ask it now. Obviously the Solomito family is very tight, but what is it like at the track when you're running your car and Shawn has his and Timmy is doing his deal? How much do you guys get to work together at the track?
Solomito: Timmy has his own deal. He's got a whole bunch of crew. Me and Shawn try to help each other out. We kind of have crew members going back and forth to help each other out. But we cheer each other on. We want to beat each other, but we are not gonna wreck each other to do it. Just one big family.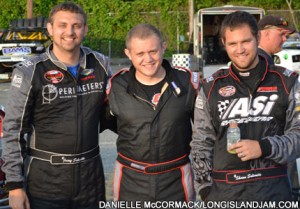 How many types of cars have you raced? What are they and which one is your favorite?
Solomito: Well I ran go-karts. I only ran champ karts there so in go-karts that is my favorite. I ran Chargers here for a season. Finished fourth in points. And then I ran the Modified and the Modified is my favorite.
Why is the Modified your favorite?
Solomito: (Looks at his car while he answers) Oh you can't beat it. The horsepower, it's the premier division, it's just something that you can't beat.
What track do you want to race at the most that you haven't gotten to yet?
Solomito: I'd like to run Thompson (Speedway Motorsports Park, Connecticut) at least once. It looks like a ton of fun. I get here at Riverhead and here you're on the gas, off the gas, on the gas. At Thompson you just ride that thing out down the backstretch.
Do you have any superstitions or routines that you do each week? Or any lucky charms?
Solomito: If I have a good week I try to wear the same socks and boxers. But if I have a bad week I change it all up (laughs).
What is your favorite racing memory?
Solomito: I finished third here once in my first couple of starts so that was pretty cool. But my favorite racing moment, for me, probably wasn't even a driving moment. It was probably my brother Shawn winning the championship here. Just how hard he worked and how hard we worked to get him there. That was pretty awesome.
On the opposite end of that, what's your most embarrassing racing memory?
Solomito: When I first started racing go-karts we raced at Westhampton. We came down the frontstretch and on my right front wheel the spindle snapped and the tire came off the go-kart. And instead of just stopping and getting out of the go-kart I just drove the thing around and off the track like I was a Winston Cup kind of guy. My father was screaming at me, "Who are you, Richard Petty?"
Have you suffered any injuries racing and if so, which one was your worst?
Solomito: Just jammed my hand in the wheel a couple times. Knock on wood. Nothing broken or severe or anything like Timmy (broken wrist). Just bruised wrists and stuff like that. Nothing serious.
Do you have a nickname, and if so, how did you earn it?
Solomito: My nickname is J-Bear. It started out as a joke from an ex-girlfriend and then it stuck and now the whole family calls me J-Bear.